came across this auction today.......these shits is crazy, right here!! 1 of 4 in the world!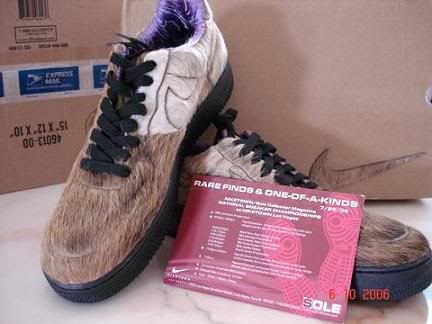 This pair was First seen at auction at the SoleCollector Las Vegas Finale when NIKE made 4 pairs of Hairys (each in a different design) specially for the event. 3 pairs were made in Horse Hair, 1 pair made in Deer Hair. Each pair ended at $1600-$2000+ at the auction in Las Vegas SoleCollector.

* This pair is only for the serious collector who wants to own a piece of AF1 history, other than the commonly seen Playstations and PE AF1s. It's the ONLY 1 pair of Deer Hairy made by NIKE in the world, never to be repeated/reproduced.
check the auction
also...
a special happy birthday to my BusyLady....
can't wait to see you!!
.....
ping pong flick - balls of fury