this tuesday will be a break due to JULY 4th(happy 4th to all).....but on the next tuesday the 11th,
ITS
BACK
ON!!!
MASTERPIECE SOUND
from JAPAN will be in the building, I'm sure dropping dub after dub,
DEADLY DRAGON SOUND
will also be in the building,
DJ SOUL JAH, DJ B & CAPONE & BEAU
will be in attendence...other suprise's to follow.....this is 1 event not to miss!!!
NOVO 290 Hudson St.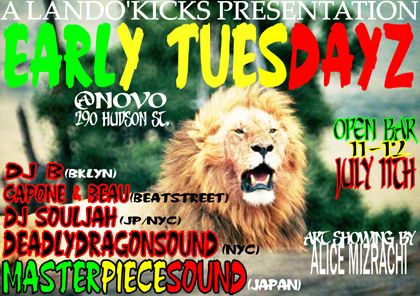 much thanks last week to NOVO, KING JAM SOUND, ORIJAHNAL VYBZ, B, BEAU, BOBBY KONDERS, DJ JUNE, PHILLY KREW, LI KREW, BKLYN KREW, THE DOWNTOWN KREW AND THE REST OF THE HEADS.......COME BACK IF YA COULD!!!
NOVO
buy MASTERPIECE SOUND CD's
DEADLY DRAGON SOUND