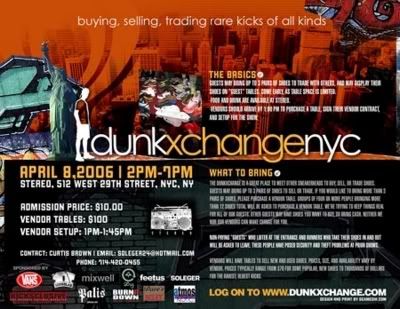 Guests may bring up to 3 pairs of shoes to trade with others, and may display their shoes on "guest" tables. Come early, as table space is limited.
Food and drink are available at Stereo.
Vendors should arrive by 11:00 am to purchase a table, sign their vendor contract, and setup for the show.
What to bring:
The dunkxchange is a great place to meet other sneakerheads to buy, sell, or trade shoes. Guests may bring up to 3 pairs of shoes to sell or trade. If you would like to bring more than 3 pairs of shoes, please purchase a vendor table. Groups of four or more people bringing more than 12 shoes total will be asked to purchase a vendor table. We're trying to keep things real for all of our guests. Other guests may have shoes you want to buy, so bring cash. Neither we nor our vendors can make change for you.
Non-paying "guests" who loiter at the entrance and runners who take their shoes in and out will be asked to leave. These people have posed security and theft problems at prior shows.
Vendors will have tables to sell new and used shoes. Prices, size, and availability vary by vendor. Prices typically range from $70 for some popular, new shoes to thousands of dollars for the rarest, oldest kicks.

Location: Stereo, 512 West 29th Street, NYC, NY
Date and Time: Apr 08, 2006, 2 pm - 7 pm
Admission Price: $10
Vendor Tables: $100
Vendor Setup: 1 pm - 1:45 pm
Contact: Curtis Brown
E-mail Address: soleger24@hotmail.com
Phone: 714.420.0455

*info via DUNKXCHANGE