hey whats happenin ya'll...... today was a craz day in
NYC
while on that 'HUNT'for that hidden egg, cause it is 'THAT' time of the year ya'know!! and after it bein so nice for the past few days, the weather decided to swich steez on us. Turns out to be 20 degrees colder then the last days of the week and wouldn't stop raining the entire day, DAMN I thought the summer was here!!!!!!! (
but April showers bring May flowers, right?
) But then, this big ol'sidekick, that i have as my phone(
dont ask why
), starts goin crazy in my pocket while its raining all over me. It takes me forever to get this phone out. When I finally get the this thing you call a phone
out of my pocket and open(
damn this SUCKS
), it was an email entitled
'GET A NECK BRACE'
. So I open this email, wondering what it could be, to a pair of AF1 lo that took the rain right out the sky and made the sun shine bright! YEA!!! This wonderful masterpiece of an Air Force 1 was done by the
"INFAMOUS JC"
at the
NIKE ID STUDIO
down here in lower NYC....
"JC"
is definitly bound to break necks all day when he puts those toes in these!!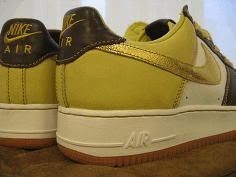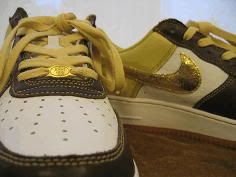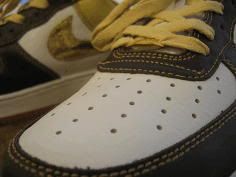 .....HAVE FUN HURTIN PEOPLE's FEELIN's....it feels so good, sometimes don't it?